SKI TOURING
The area surrounding Vatnahalsen is perfect for ski touring and freeriding, and with Ski & Train we aim to bring this fantastic mountain resort back to former glory and elevate it to new heights.The hotel is located at 820 meters above sea level, and is surrounded by majestic mountains reaching altitudes of 1700 meters. We strap on our skis right at the doorstep, and ascend directly to peaks that offer 700–1000 altitude meters of freeskiing.
When the weather and snow conditions allow us, we can hike 6–700 meters from the hotel and then ski about 1000 altitude meters down to the Flåm Valley. At the bottom we´ll board the Flåm Railway and enjoy the view as we´re brought back to Vatnahalsen along the most beautiful train ride in the world. This combination of skiing and train is unique in a Norwegian context.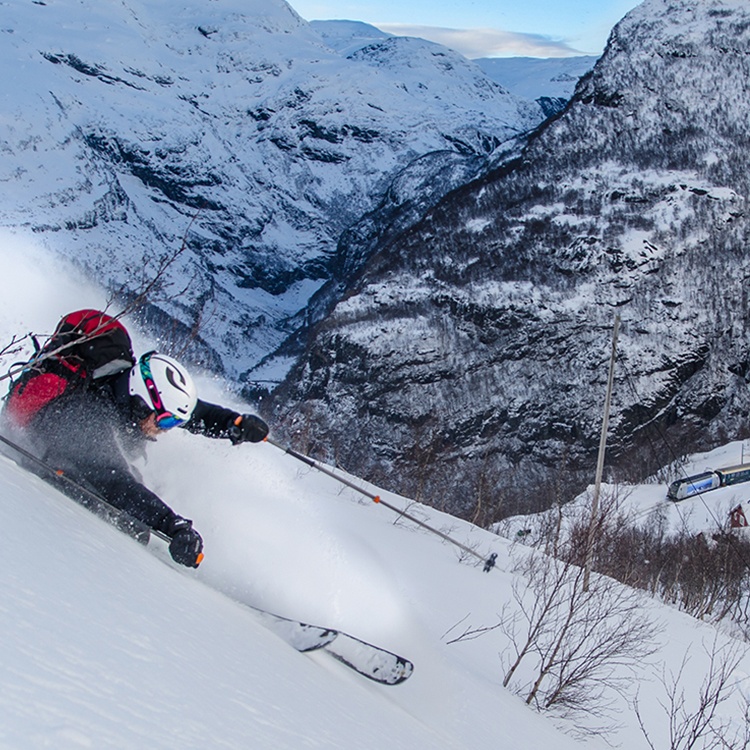 Ski & Train is a joint venture between Norgesguidene and Fjellsentralen – two of Norway's most experienced mountain guide companies. All guides that participate in Ski & Train are certified mountain guides (UIAGM) with long experience and excellent communication skills. We want to create educational, safe and unique experiences in the mountains.
Our guides bring small groups into the mountains, where you´ll experience unique skiing and get an introduction to the basic skills necessary to move safely in the winter mountain. The guide adapts activities to the group's skill level. Price per day per guide is NOK 6000 (each guide brings 1–6 persons). Guide must be booked for a minimum of two days. We are subject to the availability of guides at the given dates. We will get back to you with a confirmation. 
The aim of the Ski & Train concept is to create unique ski experiences and simultaneously build freeriding competence. To hike through the mountains with a guide adds an extra element in terms of knowledge and competence that enhances the experience. It should be safe, fun and educational. 
You need the following equipment:
– Alpine touring skis (randonee), telemark or split-board
– Skins for skis
– Backpack with provisions for a one-day hike
– Avalanche beacon, shovel and probe
The price is for 2 days with 1 guide.