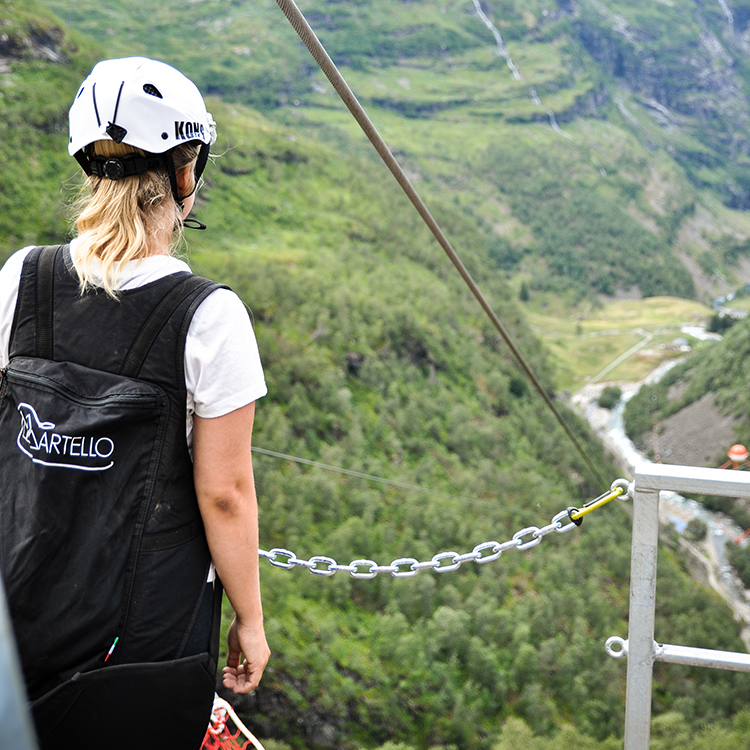 Flåm Zipline is 1381m long and the longest zipline in the Nordic region. The zipline starts at Vatnahalsen and ends up in Kårdalen, close to The Rallarrosa Mountain Farm. With a speed of 100 km/h and a height difference of 305 meters the Flåm Zipline offers a spectacular experience. The Zipline is open from May 1st to October 15th between 10 a.m. and 5 p.m. Price: Adults 800,- / children 600,-   Children up to 15 years. ( minimum 25 kg ) 
Practical info:
Minimum weight 25 kg.
Maximum weight 140 kg.
It is not permitted to be under the influence of drugs or alcohol.
Health: If you are pregnant or have back, neck, heart or lung problems, or you suffer from epilepsy or any other condition that could result in seizures, you should consider whether it advisable to to use the zipline.
In the event of bad weather, the zipline may be closed for safety reasons.
Bikes and larger items of luggage can be conveyed by a separate zipline at no extra cost.